Article by Dairy News
SAM continues to make its mark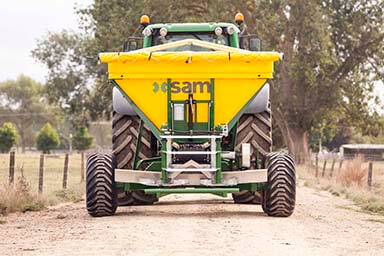 We all know the brand because of its colour scheme. You know the green and yellow one? World famous in the Waikato and the rest of New Zealand? yup you've got it - SAM of course.
Coombridge & Alexander, the Hamilton manufacturer of fertiliser spreaders, feed out wagons and tipping trailers recently hit a milestone by notching up 70 years of production and showing no signs of slowing down.
The early history can be traced back to Wilf Coombridge who started out making concrete posts for Waikato farmers, eventually buying a welder and premisis, and enduring the 1948 Frankton tornado and a huge fire before settling at the current Norton Road premisis.
In the mid 1960s Wilf and business partner Johnny Alexander were asked to build a fertiliser spreader; they branded it Coombridge & Alexander and laid the roots for the product of today. The first SAM branded machine was a red, automated bale stacker that ran alongside a truck or trailer; it soon became the name and look for all the company's products.
Rumour is that the SAM name came from rearranging the initials of Arnold and Mervin Stokes from whom the bale stacker production was licensed. And so it was, even after a buy-out in the 1970s when John Coombridge bought out his father and the Alexander family.
By the late 1980s the company had expanded into feed out wagons and took this cue to completely change the colour scheme to that of today, though keeping the SAM moniker.
Today's business is still built on those early principles centred on reliability from sound design, solid construction and easy operation and maintenance, and industry leading parts and service back-up.
In the case of fertiliser spreaders, accuracy is paramount and the company has tested the application of a wide range of products with AgCal for at least 15 years and delivers a machine with a CV (co-efficient of variation) of 8-9%. Said to be simple to set, the machines can spread up to 20m width in the case of superphosphate, and offer spread rates of 40-2500kg/ha.
Fertiliser spreaders still form the backbone of the production with a range that extends from 4 tonne single axle units and a fertiliser only 400mm wide floor belt, to 9 tonne tandem axle units with a 800mm wide belt dubbed 'Combo' and is able to spread the normal fertilisers as well as lime, cakes and chicken manures.
Construction and assembly is done at Hamilton, then the machines go off-site for a two pot paint finish applied over an arc spray galvanising process, which sets them up for a long service life.
Other than the differing floor belt widths between the standard and Combo units, the common layout is twin, hydraulically driven spinner discs, extensive use of stainless steel, belt bars and high tensile steel chains throughout the floor conveyor.
The hopper is 8mm thick, UV stabilised polyethylene for a long service life, and the machines can be customised with a wide range of options such as weigh systems and displays, roll top hopper covers and oversize tyres for soft ground.
Lately the introduction of moulded polyethylene mudguards has proved popular with users, and typifies the R&D process in the company.
Marcus Grennell, for the company, comments "customer feedback is responsible for 60% of our development direction, then 40% comes about through continuous analysis of components or manufacturing techniques".
Roll on another 70 years.