Fertiliser Spreader
6 Tonne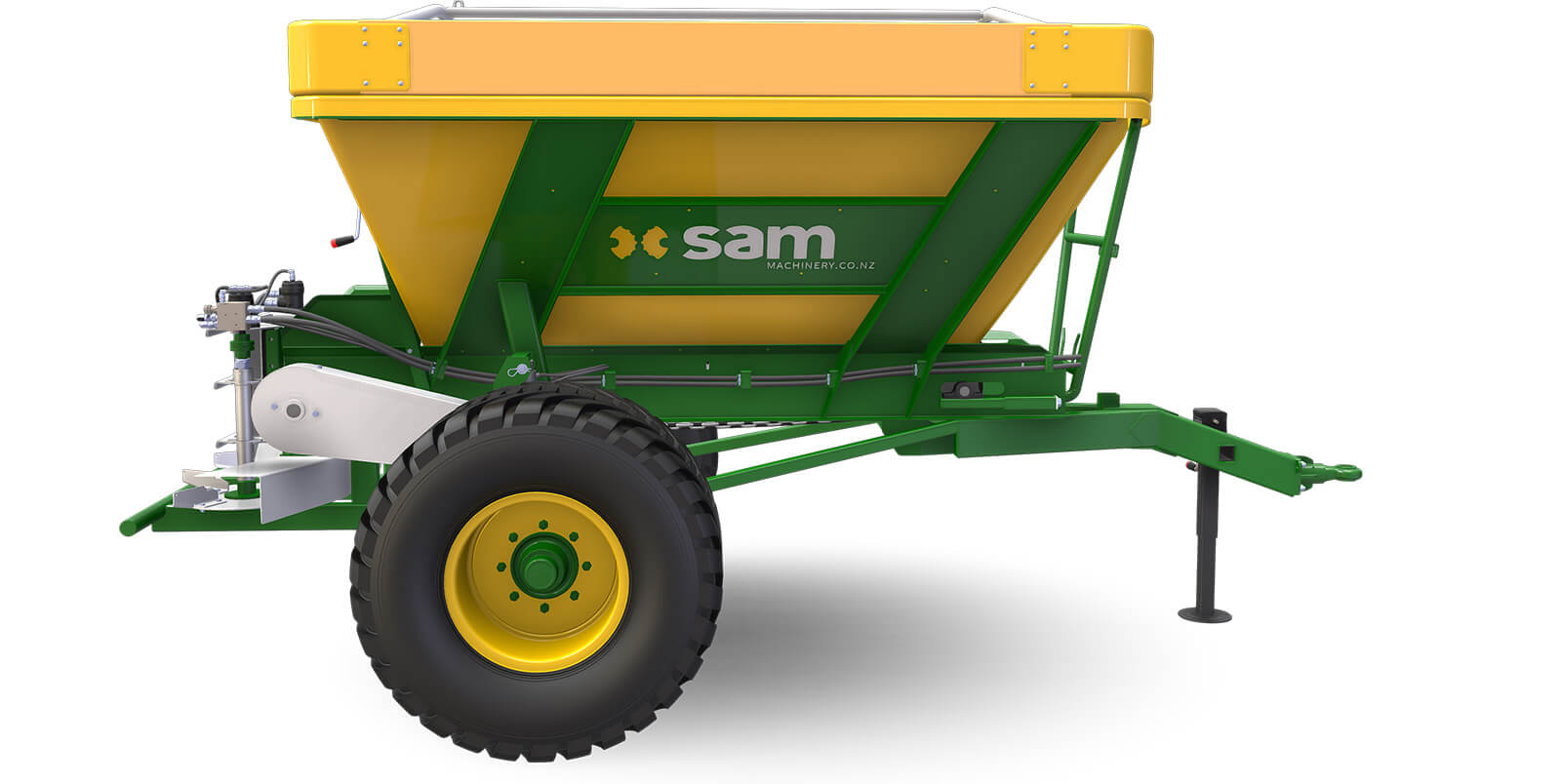 New Zealand's favourite spreader.
Known for practical design and easy to use operation, SAM Fertiliser Spreaders are developed from over 70 years' experience. The features in today's machines are the benchmark for fertiliser spreading throughout New Zealand.
Choose a SAM Spreader for extreme reliability and mega-solid construction. They provide an accurate spread pattern, with ease of operation and fast spare-parts servicing.
SAM Fertiliser Spreaders are capable of spreading all chemical fertiliser. Including; superphosphate, urea and lime between 40kg - 2500kg/hectare. With spreading widths of up to 20m (superphosphate).
They are available in single or tandem axle with capacities of 4, 5, 6 and 8 tonne. All come standard with a 400mm wide floor-belt.
Keep it simple with a standard hydraulic clutch to ground drive, or upgrade to the latest smart, accurate computer control system with weigh scales.
Smart features
More stainless for longevity

Majority stainless at the rear of the machine, extends longevity of gear where you need it most. The stainless discs are run via enclosed stainless spinner tubes and two well-proven hydraulic motors. Easily adjustable tapered roller bearings keep disks tight.

Corrosion resistant paintwork

All chassis's on SAM Spreaders have seen a new evolution of painting procedure. This is for extra corrosion protection. Firstly a steel grit abrasive blast then a thermal-arc pure zinc spray, a primer followed by a final two-pot epoxy top-coat. It is mega tough stuff!

Strong plastic bin

The polyethelyne plastic bin has proven to be extremely reliable. They are strong, corrosion resistant and UV-stabilised. Fertiliser also slips down the sides and washes off easily when you are cleaning your gear.

Even, accurate spread

The SAM twin spinner disc design gives an accurate and consistent spread pattern across a range of products. Quick and simple rate setting is by adjusting the rear door.

Load weigh scales

You can add scales to your spreader. This gives simple, accurate electronic weighing of your fertiliser. And can be zeroed out any time. More info below.

Computer control system

You can also add a computer control system to replace the standard ground drive. This gives hydraulic floor speed rate and control. More info below.

Less cleaning with mudguards!

Mudguards are moulded from UV-stabilised polyethylene, and resistant to most chemical and organic fertilisers. Debris chips to the chassis and running gear are reduced and less cleaning required. Mudguards come standard on all tandem axle models below 8 tonne.

Patterned rubber floor-belt (400mm wide)

Provides a positive non-slip feed of fertiliser onto the spinner discs. A patterned two-ply rubber floor-belt is riveted to hot-dip galvanised steel bars, welded to high-tensile chain. Stainless skirts run alongside.

Swivel coupling adds stability

Smaller spreaders come standard with a fixed coupling. The 6, 8 and 9 tonne spreaders come standard with a heavy-duty swivel coupling. They are great for varied terrain. You can choose a donut eye for coupling with a quick hitch or the insert option for tractor coupling.

App for verifying rates

A great check against your back door setting to verify exactly what you are spreading. This is for use with Spreaders fitted with load cells. Contact us and we will send you the link. Currently Android only.
Optional extras
Roll-top cover
Standard cover
Internal mesh
Tyre upgrade
e-Spreader
Topcon control (ISOBUS)
Load cells
LED Lights & flags
Skid
Safety Steps
Auto drive chain tensioner
Stainless steel hydraulic hose fittings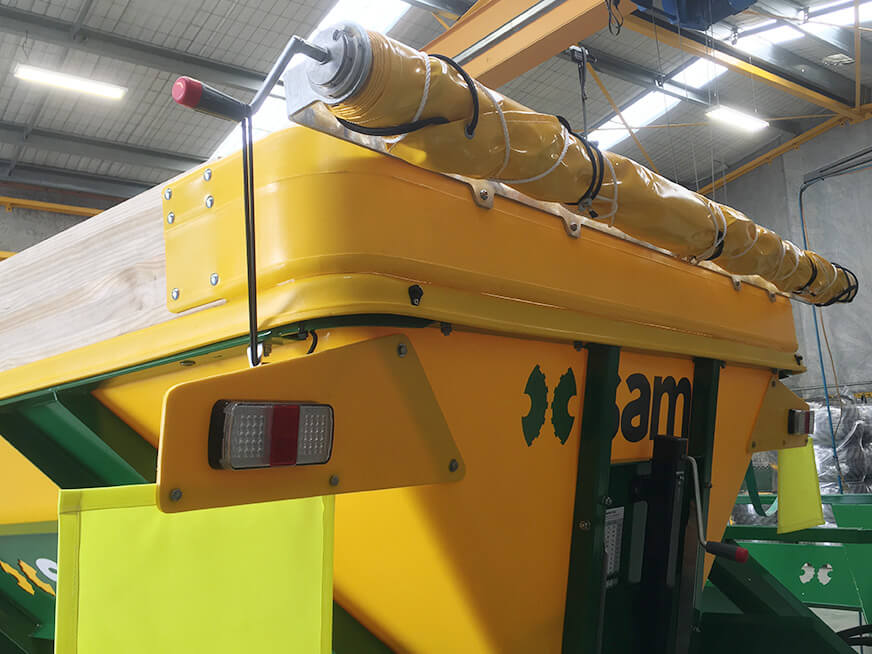 Roll-top cover
Upgrade to an easy to use roll top cover. This is a simple canvas, frame and bungy system. The handle rolls your cover up, tucked out of the way when not in use.
It is mounted on the rear of the machine so you can load from both sides.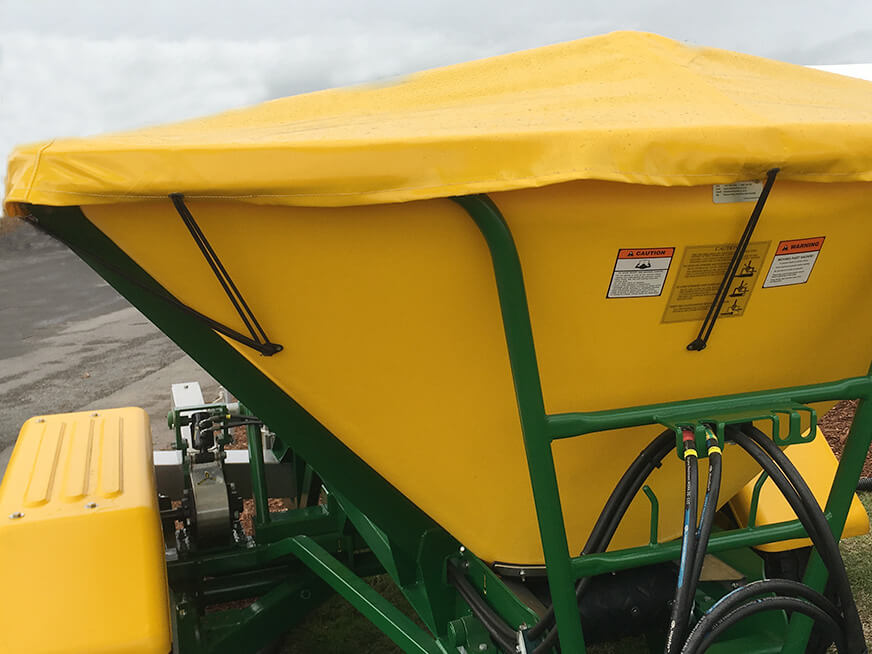 Standard cover
The standard cover is manually thrown across the load and fixed in place with bungys. Keeping it simple.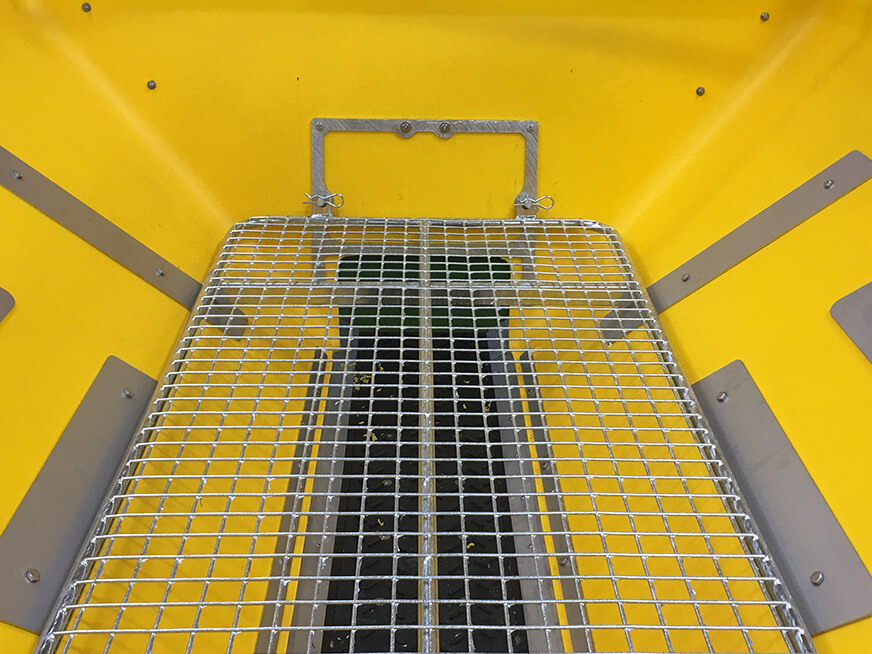 Internal mesh
This mesh fits inside your bin. It stops large objects dropping down and damaging the belt and gear. Great for spreading crusty Urea.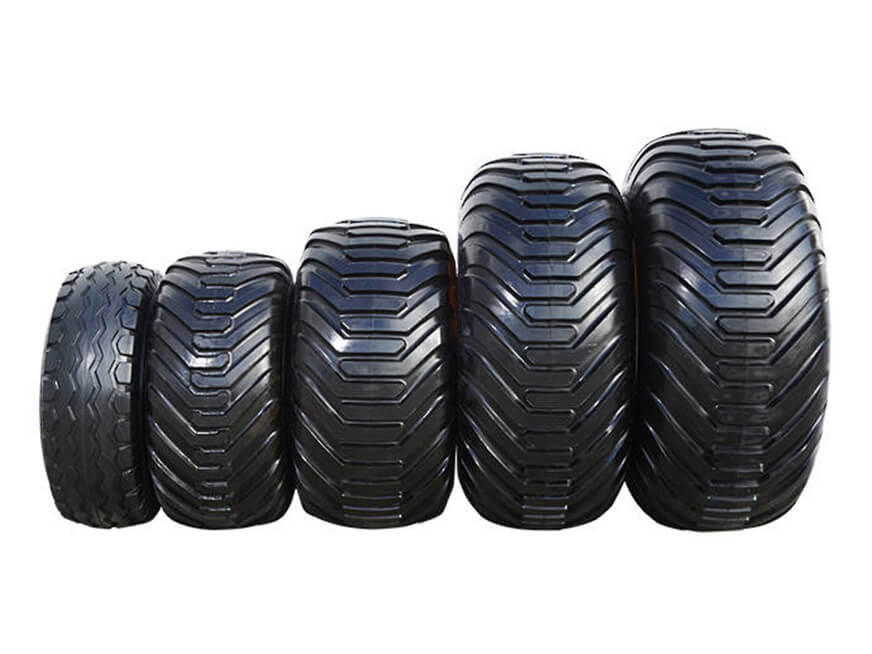 Tyre upgrade
We have tough high performing tyres to suit any application. They are chosen for their quality and durability.
We can change tyre sizes to suit your specific needs. The 4 and 5 tonne tandem spreaders use 11.5 x 15.3 tyres but these can be upgraded to larger 400 x 15.5 tyres. The 400 x 15.5 tyres are standard on the 6 tonne spreaders but can be upgraded to the 500 x 17 tyres.
550/60 x 22.5 tyres are an option on all single-axle models. These larger tyres can be excellent if you have softer, wetter conditions.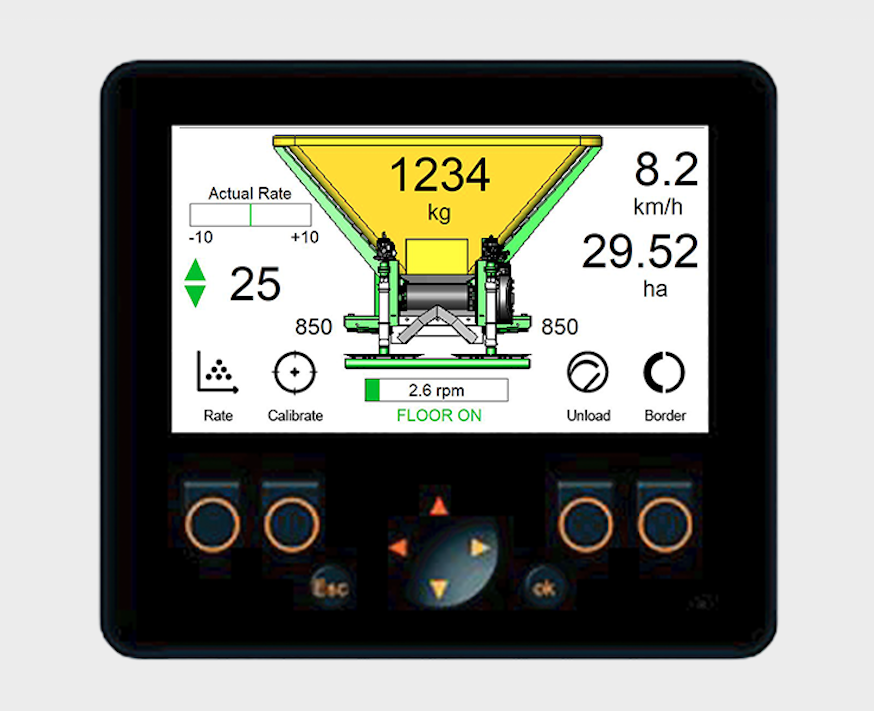 e-Spreader
Any SAM Spreader can be upgraded to an e-Spreader at the time of build. The floor speed is controlled from a screen in your tractor cab. This replaces the manual drive. You can set your rate easily from in your cab and get your spread rate very accurate.
The SAM e-Spreader is easy to calibrate and every e-Spreader is load cell ready. Fitting scales is the only way to get true accuracy because you are weighing your product. This technology means the correct application rate is applied regardless of changes in forward speed.
It also integrates easily with third party GPS systems such as TracMap. You can see how many hectares you have covered from the screen and the weight you have applied. This live data means proof of placement is easy. If you are already using a third party tracking system you don't have to reinvent the wheel.
80 - 90 l/min of oil flow from your tractor is preferred.
If you are wanting a computer controlled alternative that is ISOBUS compatible, check out Topcon control.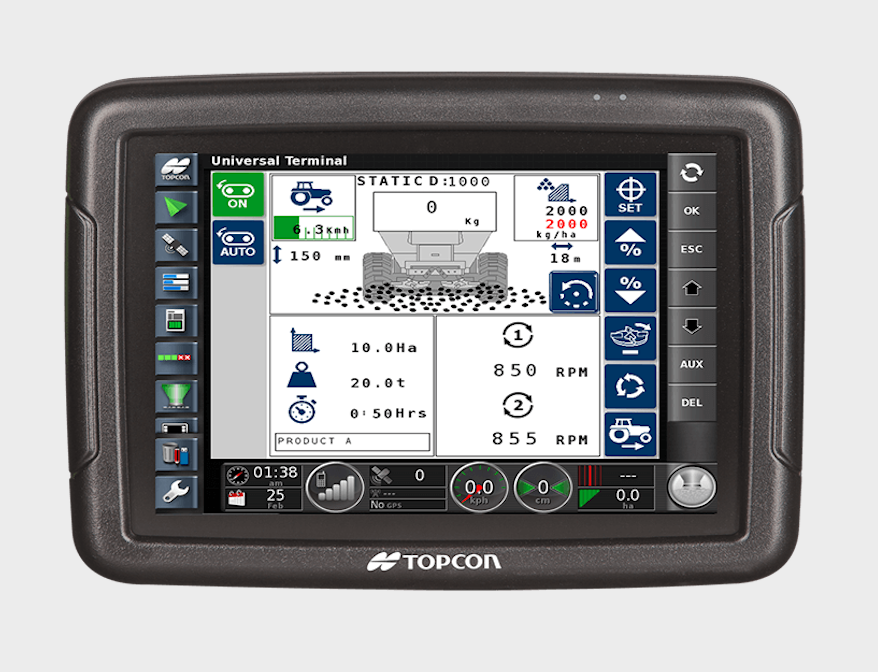 Topcon control (ISOBUS)
Adding the new Topcon computer control system means the correct application rate is applied regardless of changes in forward speed or changes in product density.
By adding the load weigh scales too, the weight of product in the bin is integrated, allowing dynamic rate control. It is continuously using the weight of product in the bin to check spread rate accuracy.
This computer control system is ISOBUS compatible so can function with the majority of modern tractor consoles.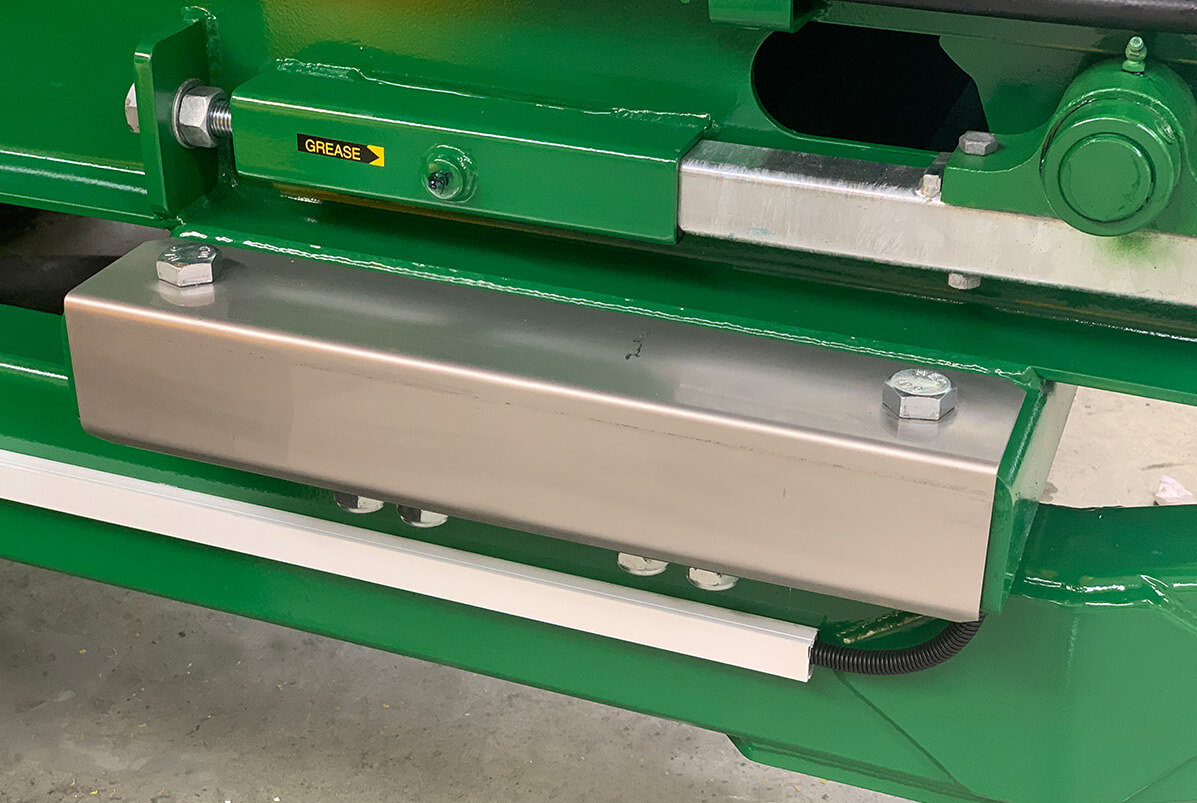 Load cells
Manual drive spreaders
Load cells give an accurate measure of the weight of product in the bin. They can be zeroed at any time.
A simple calculation of the weight of product spread, divided by the area covered, gives you the spread rate (in kg/ha). Many new tractors have an inbuilt display that will give area covered at certain spread widths.
A fixed Iconix FX15 display unit is supplied with all manual SAM machines fitted with weigh scales. It is mounted to the front of your spreader.
A simple App for Bluetooth viewing on your mobile is also available (currently Android only). This App allows you to verify your spread rate at any point in time.
Computer drive (e-Spreader & Topcon)
You can also add load cells to any computer controlled machine. Most are spec'd this way. It is really the only way to get true accuracy because you are actually weighing the product in the bin.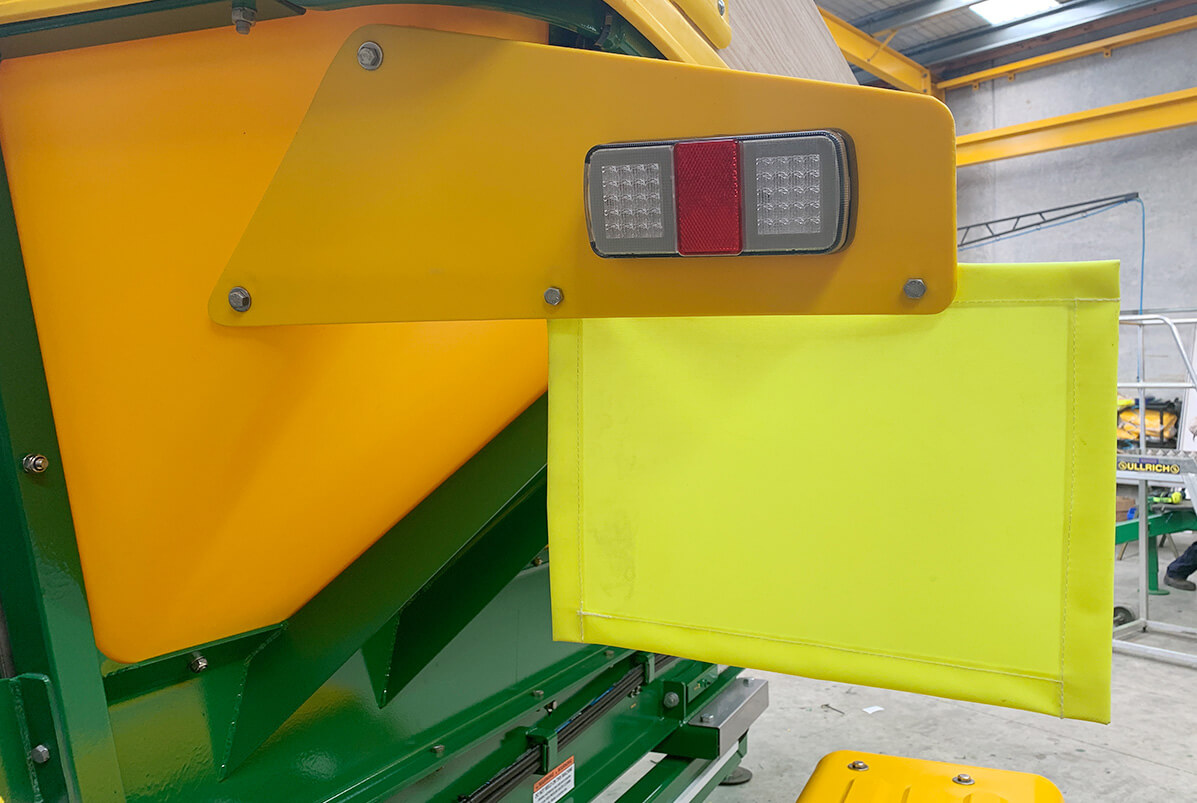 LED Lights & flags
If you are using your machine on the road you will need a set of lights and flags. The flexi mounting boards are made from durable plastic, hardy for knocks and general wear and tear.
Weatherproof lights are LED and plug directly into your power source.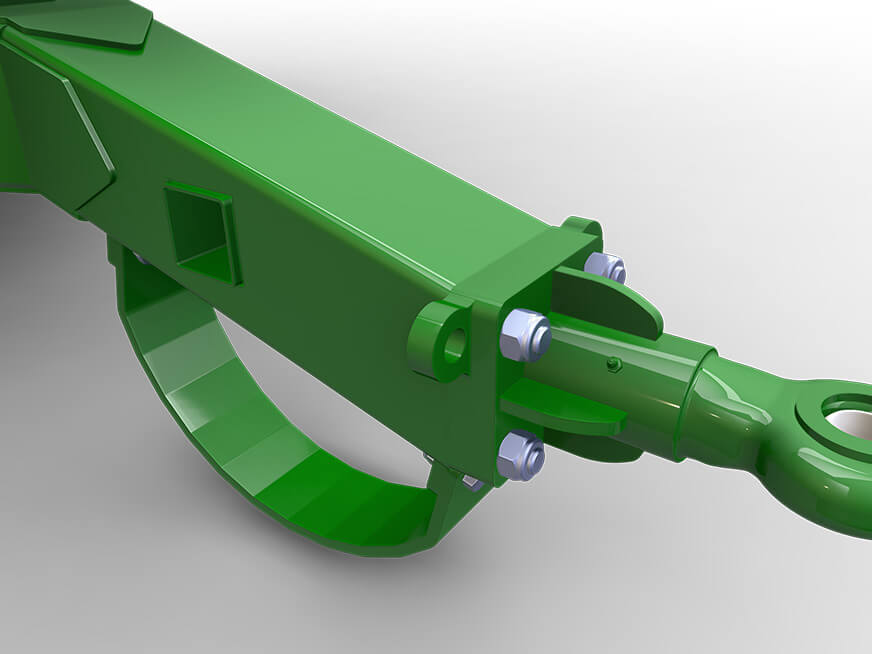 Skid
If you are using your machine with a quick hitch you will want to include a skid on the drawbar.
Please also specify that you would like a donut eye on your tow eye.
Safety Steps
Adding steps to your SAM adds an extra layer of safety. They provide strong, stable stepping points and grip bar. They are an optional extra on the smaller models and are included as standard in the 8 & 9 Tonne.
Auto drive chain tensioner
Drive on-road without removing drive chain.
Stainless steel hydraulic hose fittings
Higher grade hydraulic hose fittings for rust protection.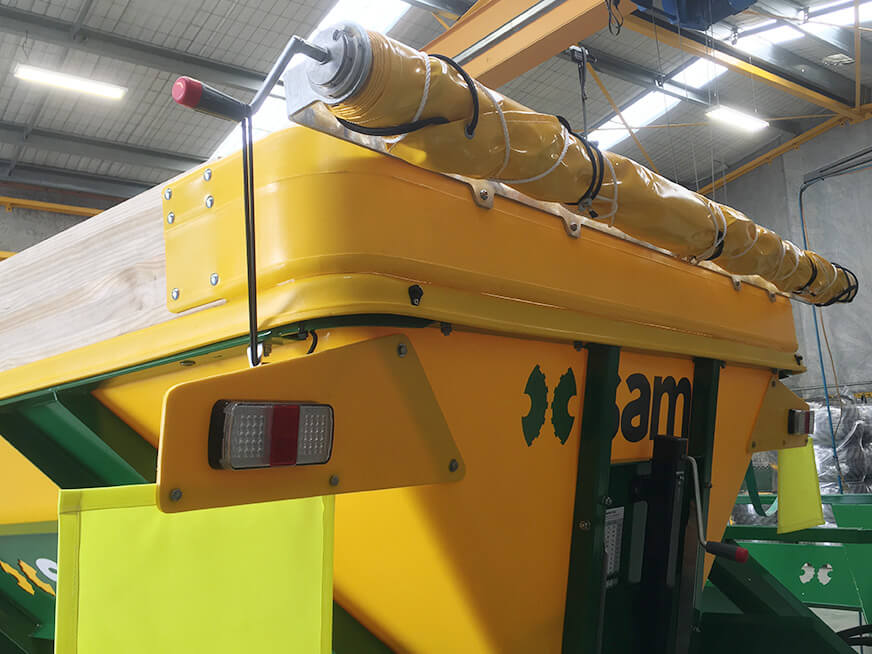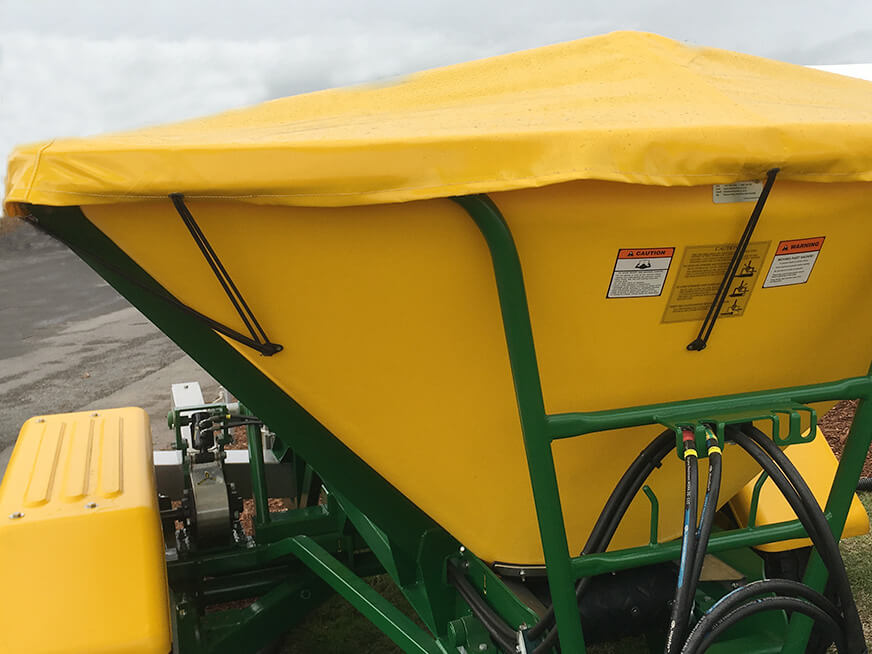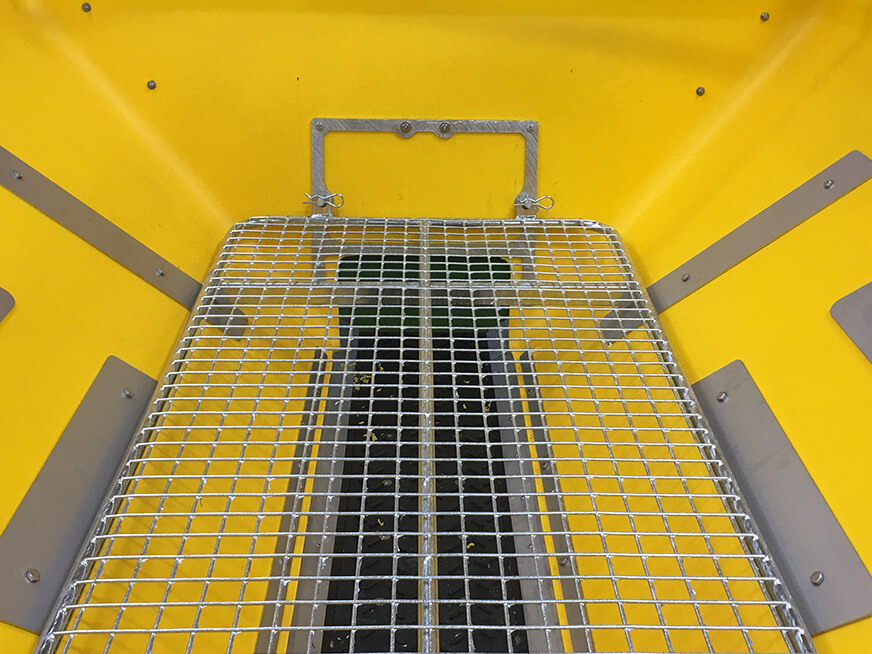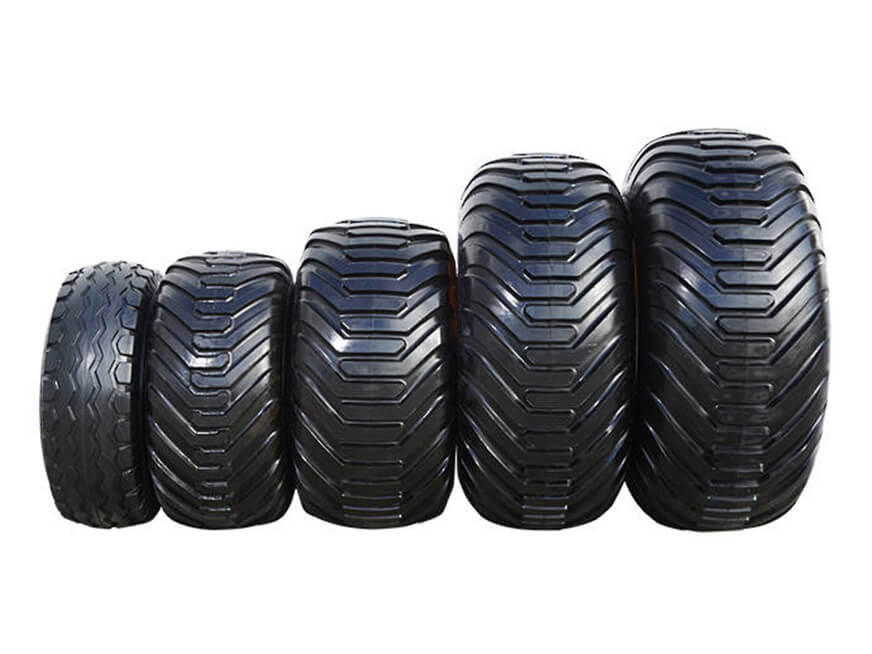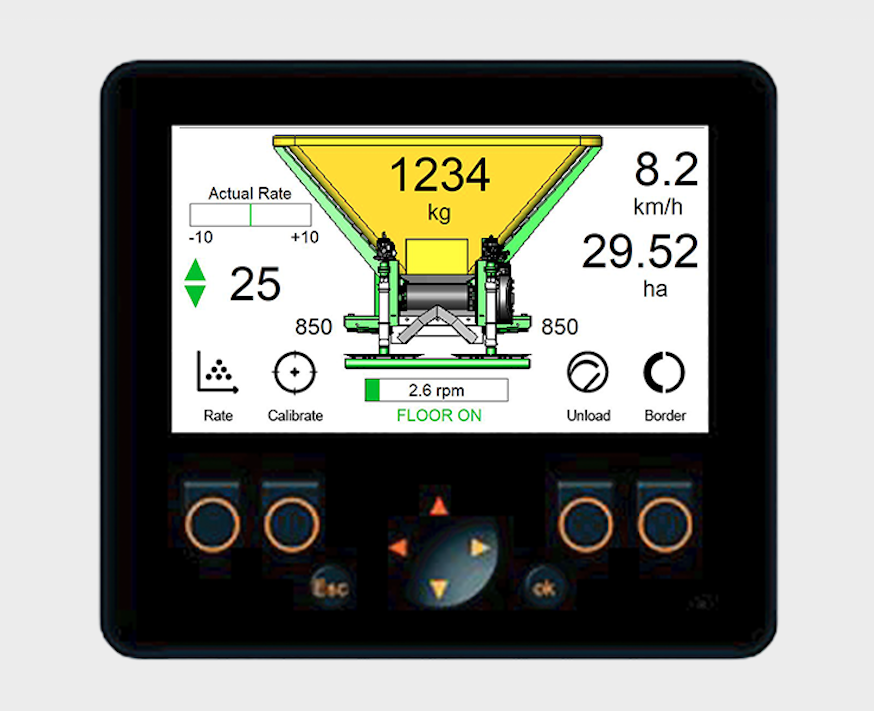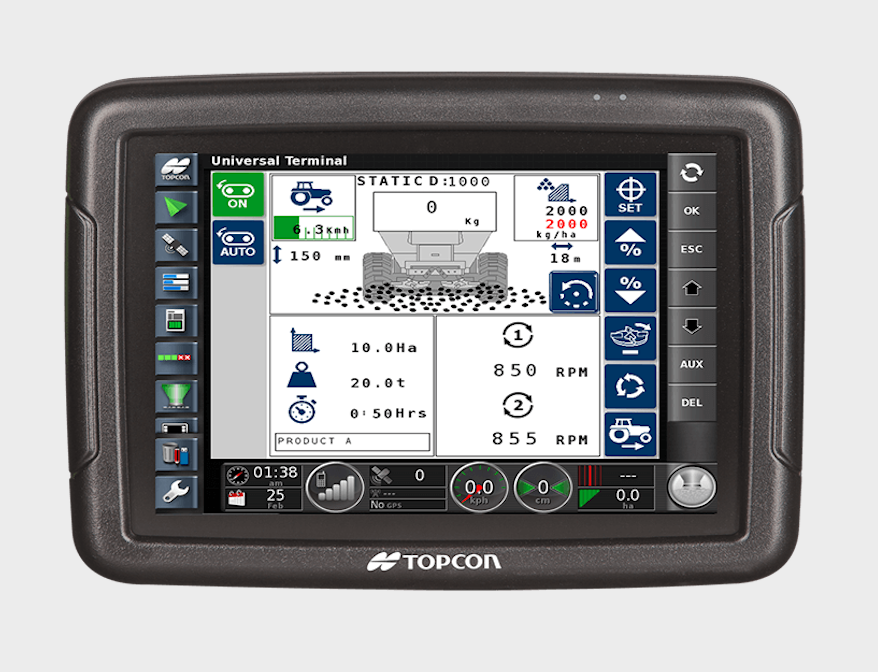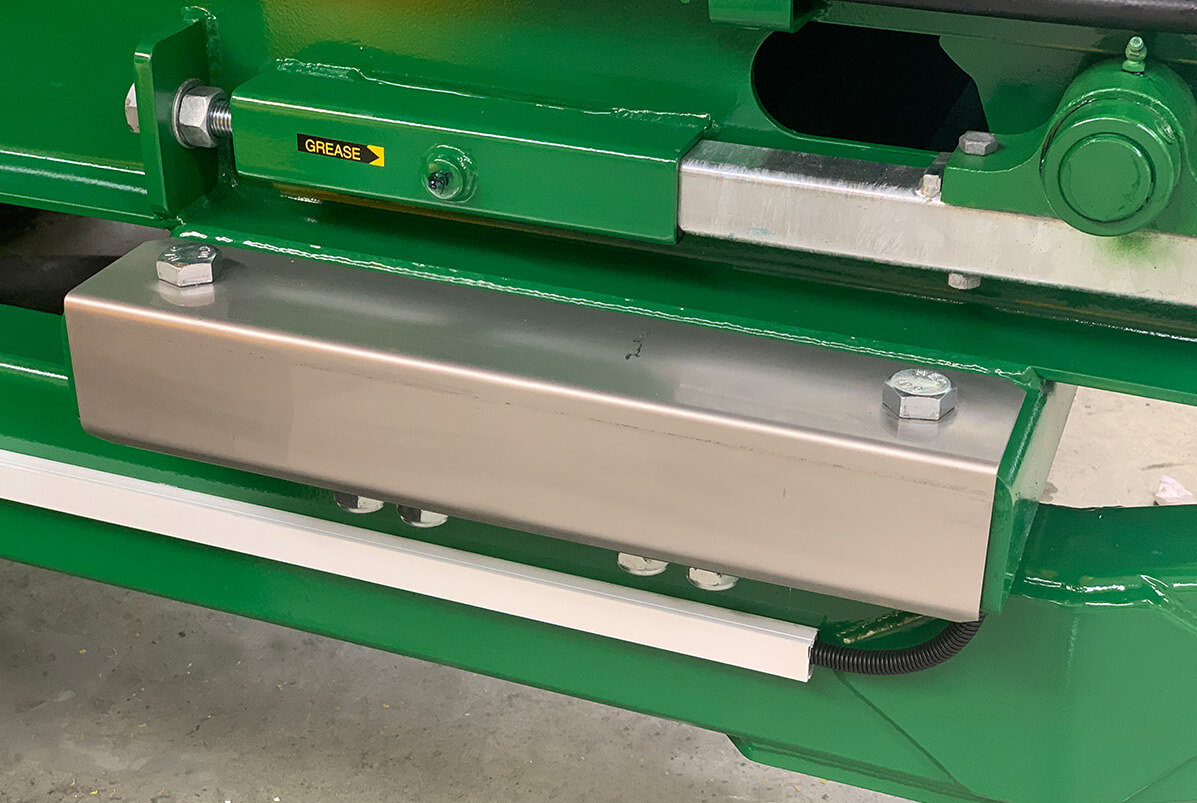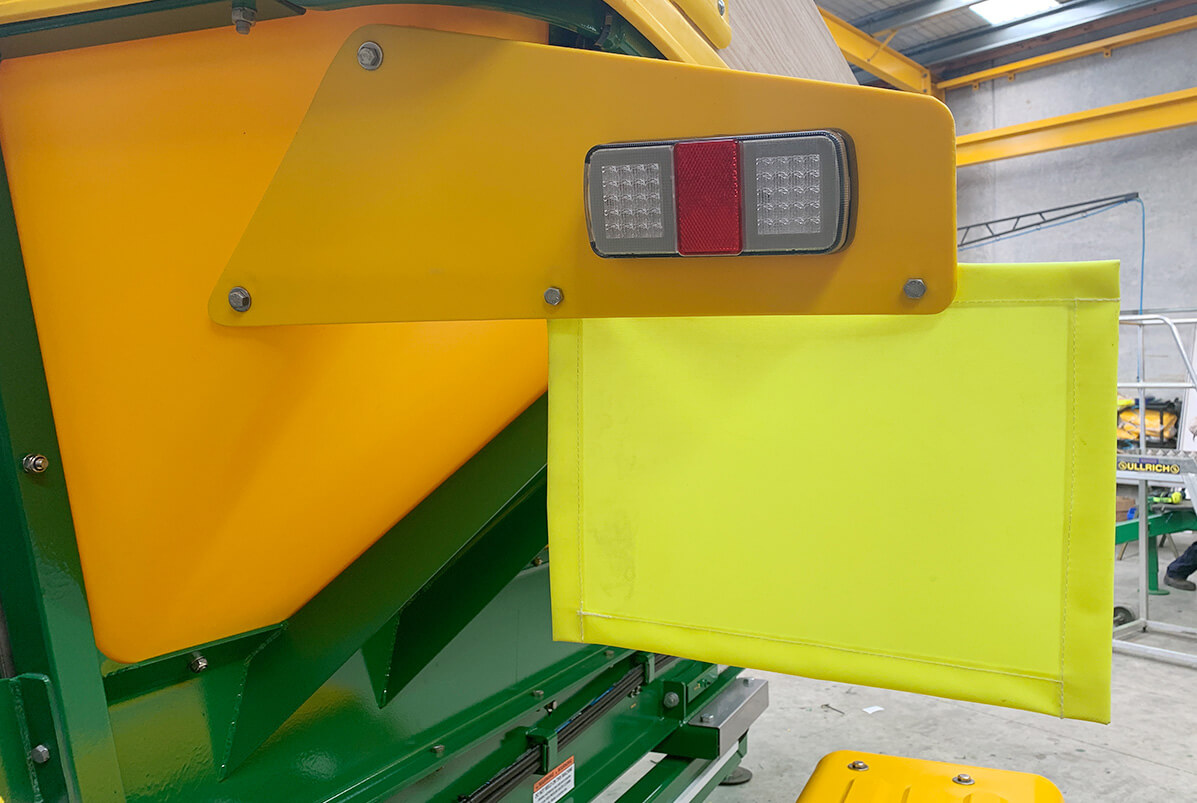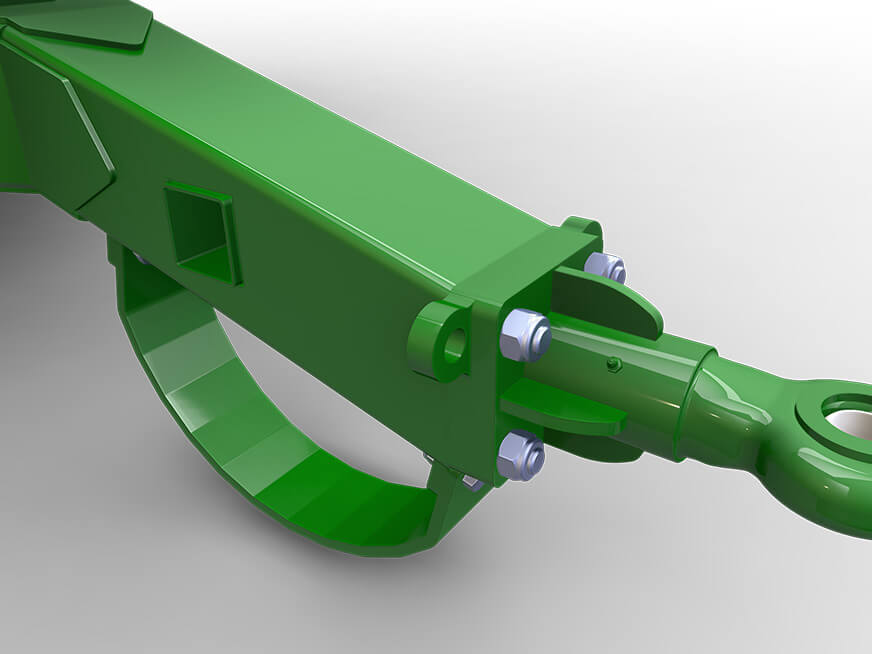 Smart Choices.
Find out which finer details are right for you.
Specifications
Axle type

80mm stub on 550 x 22.5 tyres

Axle capacity

8,000kg

Wheel type

550/60 x 22.5

Jack type

70mm screw jack

Length

4.7m

Width

Height

2.26m

Bin width

2.15m

Bin length

4.7m

Capacity

4.6m3

Superphosphate

6 tonne

Lime

7.75 tonne

Urea

3.7 tonne
Fast central support service
Our SAM range is backed by a quick and efficient support service from central Hamilton. The team are also available for technical help should you need it.
Our guarantee
We deliver quality products and stand by them. All Spreaders go through rigorous quality and accuracy testing. They also have a comprehensive warranty.
Download the brochure
I have always had SAM gear, and probably always will.
My grandad had one, my dad had a few and now I am making the same call for good reasons.
SAM's get great resale.
My SAM is the machine I use the most throughout the year (aside from my tractor). It never lets me down.
Of-course I have a SAM - you'd be nuts not too!
If anything needs sorting with my spreader, the parts team sort me out quickly and the prices are reasonable.
No extras I don't need that are going to cause me headaches over the years.
Thousands of tonnes a year and she never misses a beat